What am I doing right now?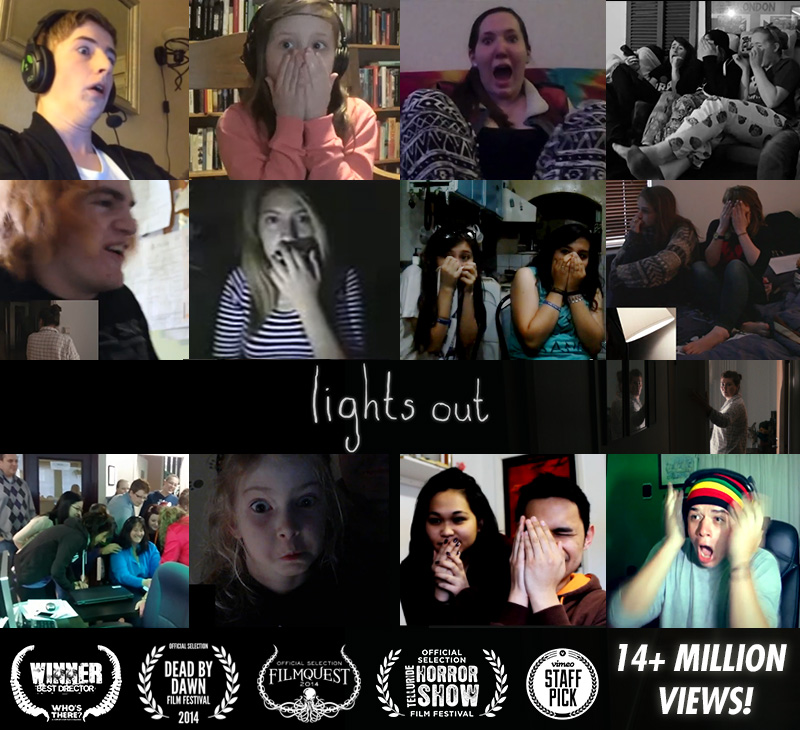 Latest:
It's getting hard to keep track of how many views Lights Out has since there are a lot of uploads out there.
I do know that it's more than
14 million views
though. It's insane. The official uploads are these two:
Vimeo
YouTube
I'm collecting the reaction videos that I find in
this YouTube playlist
.
----------------------------------------------------------------------------
Right now I'm absolutely flabbergasted by the response my short film
Lights Out
has been getting online. In four days my
Vimeo
upload got more than one million views and right now the count is at 1.8 million. Then there's my
YouTube
upload. And a bunch of other uploads from other people... Crazy!
It's been awesome seeing so many comments, shares, tweets, emails, gifs, vines and what have you. A collection of comments can be found on my wife's (the star of the film)
webpage
.
But maybe most fun of all has been the reaction videos of people watching the film for the first time (like
this
,
this
,
this
and
this
).
Thanks internet!

Who am I?
I'm David F. Sandberg (the F stands for I'm not this guy). I'm a writer, director and animator based in Gothenburg, Sweden. I have a Vimeo page, a YouTube channel, an incomplete imdb page and an infrequently updated twitter account. I'm represented by Gotham Group and Paradigm.


Who are you?
A company in need of showcasing a product or idea in a fun way? A Hollywood producer with more money than sense? A nigerian prince with a financial offer? You can always drop me an email.


Latest videos uploaded:
Some examples of the things that I do: